305.664.2238 or 239.297.4504

email us: jaydz@live.com

Open 9:00 to 5:00 Every Day

Welcome to a famous landmark in the Florida Keys since the year 1986, Pier 68. Our family business has been renting fishing boats, pontoon boats, and kayaks for vacationing Florida Keys visitors. If you are a frequent visitor of the Florida Keys, you will immediately recognize our yellow and red building located in the Middle Keys, east of the Long Key Bridge, Long Key, City of Layton, Florida, mile marker 68.

You can call ahead to reserve a pontoon boat, fishing boat, or come on in, we are open from 9-5 everyday and, sometimes we are open later than 5:00.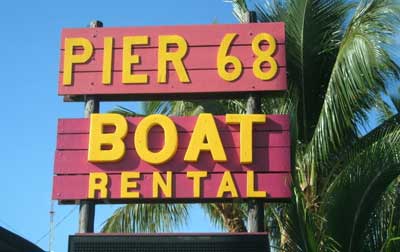 Our pontoon boat rentals accommodate up to 12 people for a fun day of snorkeling, fishing, or just plain boating the waters of the Florida Keys.
The fishing boats can get you to our great Florida Keys fishing spots by going under the Long Key Bridge, and you are fishing the Atlantic Ocean within 10 minutes of leaving our dock.
Kayak fun for the family is also available at our rental business, Pier 68. One of the best spots to kayak is across US 1 at the Long Key lake, next to Long Key State Park. Our staff will get you set-up with all your paddles and lifejackets.
Across US 1 is a convenience store to purchase your bait, beverages, snacks, sunscreen, sun glasses, and ice. We have available at Pier 68 for your boating excursion: coolers, mask, fins, snorkel, and fishing rods. Our pontoon boats and fishing boats have bimini tops to protect you from the sun.
Stop in at Pier 68 and have some fun on the Florida Keys water! We have the best prices for boat and kayak rentals.
jaydz@live.com | 305.664.2238 | 239.297.4504
Pontoon Boat Rentals | Fishing Boat Rentals | Kayak Rentals | Rates
Website design by Florida Keys website company access-to-web.com Marathon, Conch Key, Duck Key, FL
Copyright 2010, Pier 68, Long Key, Marathon, Conch Key, Duck Key, Islamorada in the FL Keys